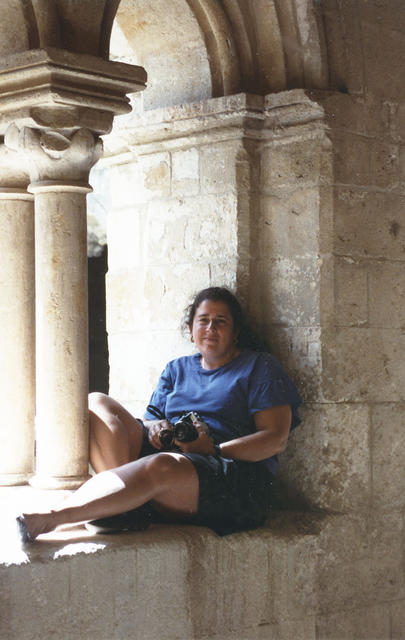 Rachel Dorothy Tanur (1958-2002) was not trained as a social scientist, but she cared deeply about people and their lives and was an acute observer of living conditions and interactions. Her profound empathy for others and her commitment to helping those less fortunate than herself accompanied her on her travels and often guided her photography. She delighted in photographing the interaction of people and the artifacts they used and created in such engagements. These, of course, are the raw materials of social science and Rachel left us a rich legacy of such photos.
Rachel received bachelor's degrees in architecture and city planning from the University of Maryland, a master's in urban design from Hunter College, and a law degree from the University of Buffalo. She worked for the New York City Planning Commission for some years as well as in real estate law for several private law firms. She was diagnosed with cancer in 1999. In response, Rachel intensified her pursuit of travel and photography and made several trips to Cuba, South and Central America, Africa, and Europe as well as across the US before her death in 2002 at the age of 43.
"Rachel Tanur's photographs represent the true spirit of ethnography. They express a direct, personal, and emotional engagement with the lives of others while also conveying enough intellectual distance to be analytic.Their play between intimacy and commentary defines the photographer as someone bound to her subject, yet concerned with the larger implications of the images she records. Ms. Tanur understands how something as simple as a street sign, a bus, or a pile of pottery is linked to an interconnected world of social, economic, political and cultural forces that define objects both as just what they are and also so much more.
Ms. Tanur's eye is that of the artist and the social scientist. Her images are beautiful in the tradition of documentary photography. They capture differences in clothing and ritual – whether a Maasai woman's jewelry set against a plaid shawl or multicolored cone hats from a carnival celebration. They reflect on widely different architectural styles – the mud walls of an African village, colonial homes in Guatemala. They provide us with colorful images of markets from around the world and a sense of the profound diversity of distinct cultural practice and the inter-connected nature of our global world.
For all their detail and informative power, the photos occasionally slide into a fascination with beauty itself, dark shadows, rich colors, the hint of motion, rhythm and artistry. In this way, these pictures remind us of the woman behind the lens, especially when presented together in this manner.
The photos express a life defined by movement, from one place to another across grand distances, as well as a spirit of inquiry rooted in empathy. Rachel Tanur's images are a reminder of both the expansiveness of our world and the sense in which its broad difference can be gathered together. It is to her credit that the many visual ideas she presents hold together and that these diverse images are bound to each other by a common ease, comfort and connectedness between artist and subject."
Daniel Rothenberg
International Human Rights Law Institute
DePaul University College of Law